Description
Print custom keychains made from PU (synthetic) leather. These customized keychain comes with a stainless steel ring.
Selecting Quantity 1 will give you 10 pieces, selecting 2 will give you 20 pieces and so on. (Bulk order discounts applied).
These 1.6″ x 2.9″ keychains are ready to be personalized with your image, design, or branding. They also make keys easier to find for their users.
We decorate each keychain with high quality dye sublimation printing. This process allows us to reproduce colorful, detailed images.
Our PU leather keychains are coated to provide resistance against creasing and fading. The image will last even with daily use!
When uploading your artwork please try and make sure it is to size. If your artwork are not to our specs we will do our best with what has been uploaded and send proofs before printing.  Some uploads may be rejected and need replacements. Don't worry we have your back – we will make sure you are getting exactly what you want every time!
* WE SEND PROOF VIA EMAIL BEFORE SENDING INTO PRODUCTION!  *
Your image size should be 1.8 in x 3.1 inch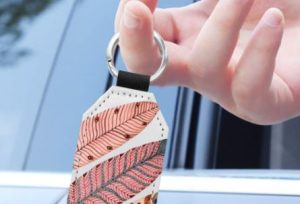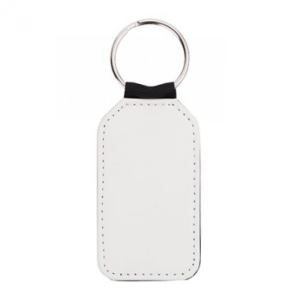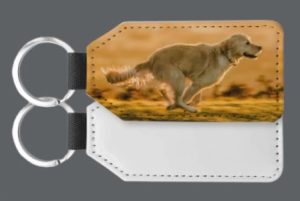 Not sure how to setup artwork?
Contact Us today
We are here to help!

Submit files in PNG or JPEG format with at least 150 DPI
We recommend using PNG for designs with a transparent background. For other designs, we advise preparing files in JPEG instead.
Create files in sRGB color profile
To ensure that your design looks as close as possible to what appears on your screen, make sure you create your print file in sRGB color profile.
Tips for Best Results
• Avoid semi-transparent designs
Semi-transparent graphics (or elements with lowered opacity) don't translate well in DTG printing. We advise using solid colors or simulating semi-transparency by halftoning.
• Create designs with the necessary DPI
Simply typing in a new resolution value into the file won't result in a higher resolution print. If your graphic's resolution is too low, the best solution is to recreate it.
Important text / images contain within 1.5 in x 2.5 inches
You can use this PNG below which is to real life size to design your artwork – just remember to delete the keychain picture before you save your work!

Download Product Template (PSD)


Download Product Template (PNG)