Description
Custom photo panels that are vibrant and long-lasting—perfect for wall art and custom home decor. Each panel is 0.045″ thick.
Includes 1 sided printing
What Are Photo Panels?
Photo panels are high definition metal prints displaying custom photos or artwork. The aluminum surface shows incredible image details that are vibrant and crisp.
Custom Photo Panel Printing
We imprint each photo panel with high quality dye sublimation printing. This process allows us to print custom metal panels with no minimums.
Long-Lasting Prints
Metal photo panels have superior resistance against fading, moisture, stains, and scratches. They are waterproof, lightweight, and easy to clean.
These are printed on a white base metal panel – if there are any transparent areas to your design they will be white. (we recommend submitting files in PNG or PDF).
iLumipiX™ aluminum sublimation panels are designed to showcase fine art high definition photo prints with the most brilliant colors, highest dynamic range, and best contrasts of all available printing technologies.
In contrast to normal direct flatbed printing on composite materials, iLumipiX™ is a sublimation board, the photos are transferred through a printed transfer paper in a heat press.
HD Photo Sublimation Panels are best for indoor. They create stunning and beautiful works of art for interior design as well as for personal use.
Our HD metal prints have a unique characteristic that can protect them from moisture, stains, and scratches.
This product is  a new product to our online shop – we are currently only offering 8x10s. These panels are finished with beautiful rounded edges.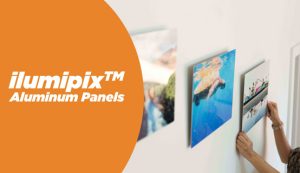 Guidelines
1. Create and upload elements of your artwork
For best results, we recommend building your artwork a design software such as photoshop or illustrator and exporting as PNG.
2. Submit files in PNG or JPEG format with at least 150 DPI
We recommend using PNG for designs with a transparent background. For other designs, we advise preparing files in JPEG instead.
3. Create files in sRGB color profile
To ensure that your design looks as close as possible to what appears on your screen, make sure you create your print file in sRGB color profile.
Tips for Best Results
• Avoid semi-transparent designs
Semi-transparent graphics (or elements with lowered opacity) don't translate well in DTG printing. We advise using solid colors or simulating semi-transparency by halftoning.
• Create designs with the necessary DPI
Simply typing in a new resolution value into the file won't result in a higher resolution print. If your graphic's resolution is too low, the best solution is to recreate it.
Disclaimers
If images are upload with a non-transparent background, this background will appear when printed.
We don't print white ink on white materials. Any designs for white materials containing white color will have areas with no print on them.
There might be slight discrepancies in print placement.